Gluten-free, organic, low-salt wholegrain rice cakes, source of fiber.

IT'S SPECIAL BECAUSE:
The rice cakes go perfectly with many ingredients, sweet or savory.

HOW TO USE:
Do not renounce to taste, try them instead of bread for a balanced nutrition: at breakfast with jam or honey, at lunch instead of bread, or use it as a base for delicious canapés.

LIVE BETTER WITH TASTE:
Our wholegrain rice cakes contain a mixture of soluble and insoluble fibres that help you regain your daily balance by facilitating the elimination of waste.




THE NUTRITIONIST RECOMMENDS.
Nutritionists advise us to take at least 25g per day of fiber to facilitate the elimination of waste.
TECHNICAL DETAILS

INGREDIENTS
Ingredients: Rice*, brown rice* 24%, corn*, buckwheat*, lupine bran* 2%, inulin* 0.5%, salt.
* from organic farming

ALLERGENICS
May contain traces of soy and sesame.

BEST BEFORE DATE
18 months after production date
NUTRITIONAL TABLE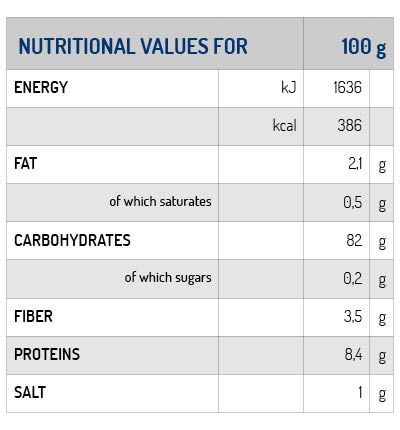 HAVE FUN COOKING
A demonstration of what you can create with our rice

Sign up for the newsletter today and get monthly news, updates from the company and e-shop promotions!
By subscribing to the newsletter you are eligible to get a discount code to be used in our eshop!