Ensuring quality control
at every step
From the selection of our partnered farmers to the final product, we maintain quality control in every step of the production process to guarantee tasty and excellent rice.
At the start of production, we meticulously examine the methods of our suppliers to ensure they meet agricultural standards.
Every batch of our rice can be mapped according to variety, place of origin and farm. Before entering production, raw material is weighed and sampled according to strict protocols and procedures. The purpose of this rigorous analysis is to ensure our products are consistently excellent, pollutant-free and infestation-free.

Raw material that meets intial quality requirements upon reception is poured from trucks into storage receptacles and transported to storage silos (cells). Fine grills prevent containment at this stage.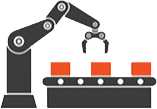 During the refinement process, the grains are examined and selected according to restrictive parameters. We test smell, color, chemical, physical and microbiological properties, and organoleptic controls to guarantee perfection.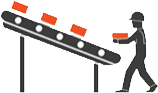 The filtered white rice is placed in the storage silo until the next collection for packaging. The product is then sent to the machines via closed transport systems. Automation controls the contents of the vacuum package and bundling of the sales unit.

These certifications establish our achievements and excellence of our industrial processes both in respect to our enterprise and the environment.


WE LIVE FOR RICE
SINCE 1860