TRIANGLE RICE SNACKS
TURMERIC


IT'S SPECIAL BECAUSE:
It's right to treat yourself to a tasty snack.

HOW TO USE:
A snack for every moment of the day with all the taste of rice.

LIVE BETTER WITH TASTE:
Crocca&Gusta Snacks contain 60% less fat than the average best-selling similar products.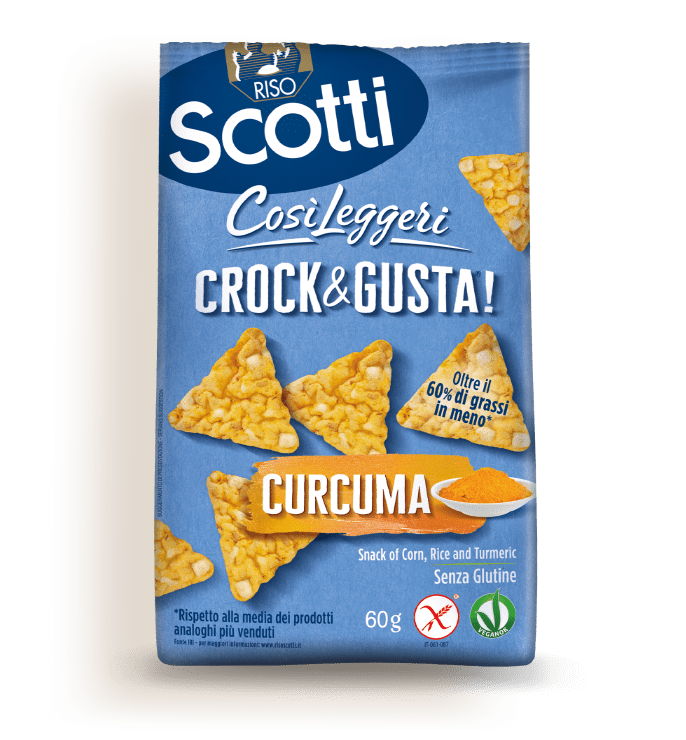 THE NUTRITIONIST RECOMMENDS.
A low-fat diet helps preventing cardiovascular problems.
TECHNICAL DETAILS

INGREDIENTS
Corn 87%, brown rice 11%, turmeric 0.8%, salt.

ALLERGENICS
May contain traces of soya, milk and derived products.

BEST BEFORE DATE
18 months after production date
NUTRITIONAL TABLE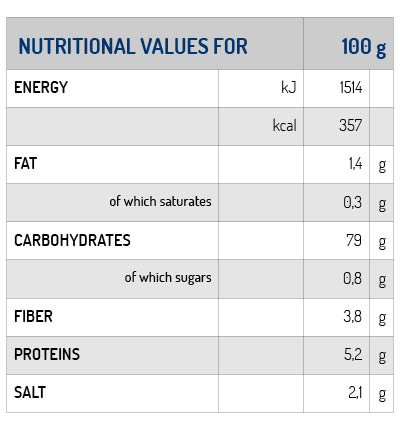 HAVE FUN COOKING
A demonstration of what you can create with our rice
#TIMESAVING
Summer Rice
Tomatoes & Tuna
If you don't have enough time for cooking healthy food, Whole Rice @riso_scotti is right for you! Add chopped tomatoes and tuna for a summer and healthy lunch!
RECIPE
#COOKINGJOINSPEOPLE
Xinjiang Uyghur
Polo China
It is a vegetarian dish where meat has been replaced with dried fruits, such as prunes, apricots and raisins.
RECIPE
#COOKINGJOINSPEOPLE
risotto with pork
ITALY
In the area of Pavia, the "culture of pig" is deep-seated: quand's gà fam, ghe'l pän e salàm ("when you are hungry, you can have bread and salami") is still a common saying. In the past, breed a pig meant having a life insurance and when it was killed, once a year, in order to check whether the meat prepared to make salami was good, a little part of it was used to prepare a risotto.
RECIPE
#COOKINGJOINSPEOPLE
Köftes tomato and pepper
TURKEY
Köfte is a ball made with minced meat. There are several variations without the employment of meat, such as the ones with lentils or potatoes.
RECIPE

Sign up for the newsletter today and get monthly news, updates from the company and e-shop promotions!
By subscribing to the newsletter you are eligible to get a discount code to be used in our eshop!