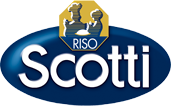 Pasta & Noodles,
according to Riso Scotti.
Rice becomes the ingredients for the most loved dish by Italians: pasta.

With the use of new productive technologies we produced rice noodles
because you can regain health and taste
in your favorite dish, even if you have to stay away from gluten!
Our offices are open Monday to Friday from 8:00 to 13:00 and 14:00 to 18:00
Via Angelo Scotti, 2
27100 Pavia
Tel. +39 0382 5081
Fax. +39 0382 577265
E-mail: info@risoscotti.it
Via Angelo Scotti, 2
27100 Pavia
Tel. +39 0382 508341
Hours: 8.30-12.30 | 15.00-19.00
E-mail: negozio@risoscotti.it
Via Angelo Scotti, 2A
27100 Pavia
Tel. +39 0382 508216
Fax. +39 0382 571319