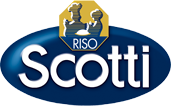 Traditional recipes...
ready in few minutes.
The line "Risotto", traditional recipes to be served in few minutes.

Ready risotti with a high service content,
for you that you have to save time in the kitchen, but you want to bring to the table taste and health:
guaranteed result, no preservatives, no glutamate, no hydrogenated fats.
Our offices are open Monday to Friday from 8:00 to 13:00 and 14:00 to 18:00
Via Angelo Scotti, 2
27100 Pavia
Tel. +39 0382 5081
Fax. +39 0382 577265
E-mail: info@risoscotti.it
Via Angelo Scotti, 2
27100 Pavia
Tel. +39 0382 508341
Hours: 8.30-12.30 | 15.00-19.00
E-mail: negozio@risoscotti.it
Via Angelo Scotti, 2A
27100 Pavia
Tel. +39 0382 508216
Fax. +39 0382 571319