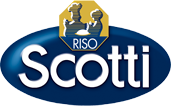 5 Whole Cereal
With Quinoa

You can use the 5 cereals in all seasons; they are excellent for autumn soups, appetizing for rice salads or as side dish for white meats.

The wellbeing of Rice, easily digestible and with a low fats content; Quinoa, that supplies fibres and minerals such as phosphorous, magnesium, zinc; whole rye, that provides vitamins of the group B, whole wheat, that contains folic acid and beta-carotene; whole oats, wheat and barley, with fibres, potassium, iron and phosphorus.


Brown rice 56%, cereals mix 25% (wheat 50%, rye 32%, barley 18%), quinoa 10%, oats 9%




Eating 5 cereals with Quinoa you take 2,8% of fibers you need in a day and 14,4% of proteins.
Nutritionists recommend taking at least 25g of fibre a day in order to facilitate the elimination of dross. On the contrary today we take only about 10g because we eat more refined foods and on our tables there are less fruits and vegetables than on our parents' ones.
Remember that a diet with a low salt content reduces the risk of hypertension.
Our offices are open Monday to Friday from 8:00 to 13:00 and 14:00 to 18:00
Via Angelo Scotti, 2
27100 Pavia
Tel. +39 0382 5081
Fax. +39 0382 577265
E-mail: info@risoscotti.it
Via Angelo Scotti, 2
27100 Pavia
Tel. +39 0382 508341
Hours: 8.30-12.30 | 15.00-19.00
E-mail: negozio@risoscotti.it
Via Angelo Scotti, 2A
27100 Pavia
Tel. +39 0382 508216
Fax. +39 0382 571319