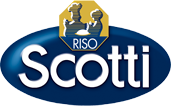 You can use Brown Basmati Rice for tasty side dishes, it's ideal to match with chicken and salted vegetables.

The Brown Basmati Rice is source of fibre and thanks to a careful processing, it keeps unchanged all its scent and its particular taste of white flowers and sandalwood.






Eating 100g of Brown Basmati Rice you'll obtain the 10% of the fibers and only 0.4% of sugars that you need in the day.
NUTRITIONISTS RECOMMEND taking at least 25 g of fibres a day in order to facilitate the elimination of dross. On the contrary today we take only 10 g because we eat more refined foods and less fruits and vegetables than our parents.

Remember, if you are a healthy and dynamic woman
you should take on average between 1700 and 2000 calories a day.

If you are a man in the same conditions
instead, you should take between 2000 and 2400 calories a day.
Our offices are open Monday to Friday from 8:00 to 13:00 and 14:00 to 18:00
Via Angelo Scotti, 2
27100 Pavia
Tel. +39 0382 5081
Fax. +39 0382 577265
E-mail: info@risoscotti.it
Via Angelo Scotti, 2
27100 Pavia
Tel. +39 0382 508341
Hours: 8.30-12.30 | 15.00-19.00
E-mail: negozio@risoscotti.it
Via Angelo Scotti, 2A
27100 Pavia
Tel. +39 0382 508216
Fax. +39 0382 571319