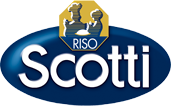 Little "travel" size rice biscuits, they represent a good substitute of bread, a yummy snack for your break. Try them as base for delicious canapés!

Rice biscuits are obtained through the process of rice's blowing, making use of heat and pressure. The result is a natural product, that preserves unchanged all nutritional properties of the grain.


Organic semi-milled rice, salt.


12 months from the packaging date.


A packet of Mini Risette is excellent for your break, because it provides 152 calories, 7.6% of the ones necessary in a day
Remember that a diet with a low salt content reduces the risk of hypertension

Remember, if you are a healthy and dynamic woman you should take on average between 1700 and 2000 calories a day.
If you are a man in the same conditions instead, you should take between 2000 and 2400 calories a day.

Such requirements obviously vary depending on age, life style and your general state of health.
Our offices are open Monday to Friday from 8:00 to 13:00 and 14:00 to 18:00
Via Angelo Scotti, 2
27100 Pavia
Tel. +39 0382 5081
Fax. +39 0382 577265
E-mail: info@risoscotti.it
Via Angelo Scotti, 2
27100 Pavia
Tel. +39 0382 508341
Hours: 8.30-12.30 | 15.00-19.00
E-mail: negozio@risoscotti.it
Via Angelo Scotti, 2A
27100 Pavia
Tel. +39 0382 508216
Fax. +39 0382 571319