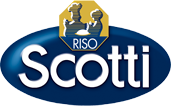 If you are looking for lightness without renouncing the taste, try them for breakfast with jam or honey, at lunch instead of bread, or use them as base for yummy canapés. Packed in 8 single portions, to remain fresh and crunchy for long.

Produced only with ground rice and without yeast or oil, they provide all carbohydrates of the rice that, for their nature, are easy to digest.


Rice flour*, sea salt. *= from organic agricolture.

It may contain traces of milk and soy.

12 months from the packaging date


A portion of Scotti Rice Crackers provides 0.25g of fats, that is 0,4% of the quantity you need in a day
Nutritionists recommend taking maximum 70g of fats a day because the excessive use causes obesity, heart diseases and several other unpleasant health problems.
Our offices are open Monday to Friday from 8:00 to 13:00 and 14:00 to 18:00
Via Angelo Scotti, 2
27100 Pavia
Tel. +39 0382 5081
Fax. +39 0382 577265
E-mail: info@risoscotti.it
Via Angelo Scotti, 2
27100 Pavia
Tel. +39 0382 508341
Hours: 8.30-12.30 | 15.00-19.00
E-mail: negozio@risoscotti.it
Via Angelo Scotti, 2A
27100 Pavia
Tel. +39 0382 508216
Fax. +39 0382 571319