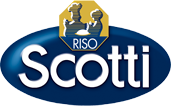 Riso 3'
For Single Courses

You can use Risoè for Single courses, combined with meat or fish, or accompany it to your favourite ingredients.

Risoè... the usual rice ready in a few minutes. It keeps unchanged all nutritional values, quality, naturalness and taste of traditional rice thanks to a process of steam precooking.
It's not important the minimum time possible, but the right minimum time...


Very fine precooked Thaibonnet rice 98%, sunflower oil, salt.


20 months from the packaging date


Remember that the rice's carbohydrates are easily absorbable because, being organized in granules much littler that the other cereals' ones, your stomach digests them at once and converts them into energy immediately available for your body.
Nutritionists suggest taking little quantities of carbohydrates in a constant way during the day in order to always have "fuel" for our body.
Our offices are open Monday to Friday from 8:00 to 13:00 and 14:00 to 18:00
Via Angelo Scotti, 2
27100 Pavia
Tel. +39 0382 5081
Fax. +39 0382 577265
E-mail: info@risoscotti.it
Via Angelo Scotti, 2
27100 Pavia
Tel. +39 0382 508341
Hours: 8.30-12.30 | 15.00-19.00
E-mail: negozio@risoscotti.it
Via Angelo Scotti, 2A
27100 Pavia
Tel. +39 0382 508216
Fax. +39 0382 571319