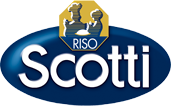 You can use Roma Rice for soups, rice with sauce and flans.

The rice's wellbeing derives from its easily absorbable carbohydrates, from its noble proteins completely available for our body, from the absence of allergens that could cause irritating negative reactions.




26 months from the packaging date


Remember that the rice's carbohydrates are easily absorbable because, being organized in granules much littler that the other cereals' ones, your stomach digests them at once and converts them into energy immediately available for your body.
Nutritionists suggest taking little quantities of carbohydrates in a constant way during the day in order to always have "fuel" for our body.
Our offices are open Monday to Friday from 8:00 to 13:00 and 14:00 to 18:00
Via Angelo Scotti, 2
27100 Pavia
Tel. +39 0382 5081
Fax. +39 0382 577265
E-mail: info@risoscotti.it
Via Angelo Scotti, 2
27100 Pavia
Tel. +39 0382 508341
Hours: 8.30-12.30 | 15.00-19.00
E-mail: negozio@risoscotti.it
Via Angelo Scotti, 2A
27100 Pavia
Tel. +39 0382 508216
Fax. +39 0382 571319