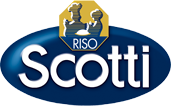 Our rice bran oil has a sweet flavour and a nice scent of nuts that you can appreciate on cold foods and salads. If you use it for frying, you will realize it gives fragrance and lightness to your dishes, thanks to its high smoke point that ensures an high stability and resistance at high temperatures.

Three spoonfuls of rice bran oil each day provide your body with 10g of linoleic acid, a nutrient that, within an healthy and balanced diet, helps keeping normal levels of cholesterol. The presence of vitamin E, besides, protects the cells from the oxidative stress.




24 months from the packaging date


Nutritionists recommend a daily use of 3-4 coffee spoonfuls of oil because your body need "good" fats to be healthy.
Remember that an oil with an high smoke point has more stability at high temperatures and doesn't release components detrimental for your body.

Remember, if you are a healthy and dynamic woman you should take on average between 1700 and 2000 calories a day.
If you are a man in the same conditions instead, you should take between 2000 and 2400 calories a day.

Such requirements obviously vary depending on age, life style and your general state of health.
Our offices are open Monday to Friday from 8:00 to 13:00 and 14:00 to 18:00
Via Angelo Scotti, 2
27100 Pavia
Tel. +39 0382 5081
Fax. +39 0382 577265
E-mail: info@risoscotti.it
Via Angelo Scotti, 2
27100 Pavia
Tel. +39 0382 508341
Hours: 8.30-12.30 | 15.00-19.00
E-mail: negozio@risoscotti.it
Via Angelo Scotti, 2A
27100 Pavia
Tel. +39 0382 508216
Fax. +39 0382 571319