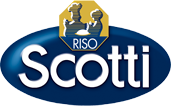 Rice&Corn
Whole Spaghetti

Cook it like traditional pasta and use a light sauce. Excellent also for summer pasta salads.

Bring taste and wellbeing on your table with Pasta Rice&Corn; the "safe" pasta if you have a gluten intolerance or allergy.
It supplies a correct quantity of fibre for your daily wellbeing. Its natural flavour makes the wholemeal a pleasure!


Whole grain rice flour (51,2%), whole grain maize flour (41,8%), corn bran (6,5%), emulsifier: mono and diglycerides of fatty acids.

It may contain traces of eggs.

24 months from the packaging date.


A good plate of Pasta Rice&Corn supplies the 18% of the energy you need in a day in the form of carbohydrates and only 2% of fats.
Nutritionists recommend taking at least 25g of fibre a day to facilitate the elimination of dross. On the contrary today we only take 10g because we eat more refined foods and less fruits and vegetables than our parents.

Remember, if you are a healthy and dynamic woman you should take on average between 1700 and 2000 calories a day.

If you are a man in the same conditions, instead, you should take between 2000 and 2400 calories a day.
Our offices are open Monday to Friday from 8:00 to 13:00 and 14:00 to 18:00
Via Angelo Scotti, 2
27100 Pavia
Tel. +39 0382 5081
Fax. +39 0382 577265
E-mail: info@risoscotti.it
Via Angelo Scotti, 2
27100 Pavia
Tel. +39 0382 508341
Hours: 8.30-12.30 | 15.00-19.00
E-mail: negozio@risoscotti.it
Via Angelo Scotti, 2A
27100 Pavia
Tel. +39 0382 508216
Fax. +39 0382 571319