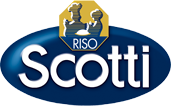 Pour the content of a packet in a pot with 600 ml of cold water. Stir until it boils. Cook over medium heat for 15 minutes without the lid, stirring every now and then, until the water is completely soaked up. Use a knob of butter and some spoonfuls of Parmesan cheese to season it.

We chose brown rice with its nutritional values to prepare a risotto with a peculiar flavour. We choose high quality natural dehydrated ingredients for a dish with a real flavour and to keep the nutritional and organoleptic qualities of the recipe unchanged. So, we don't need to use flavour enhancers such as glutamate!


83% carnaroli rice, rice flour, powdered cheese preparation (whey, cheese powder (milk, salt, rennet, whey), salt, flavorings), natural flavorings, spinach 2,4%, prepared with powdered olive oil (olive oil, glucose syrup, milk proteins, natural flavors), onion, sea salt, whole milk powder, garlic.

It contains milk, may contain traces of fish, molluscs, crustaceans, soy, celery and sulphites.



Remember that rice carbohydrates are easy to assimilate, since, being organized in granules much littler that the other cereals ones, your stomach digest them immediately, converting them in energy immediately available for your body.
The dehydration is the most ancient process for food preservation, which reproduces the drying in the sun. Depriving food of water, it can be preserved unchanged for a long period without using preservatives.

Remember, if you are a healthy and dynamic woman you should take on average between 1700 and 2000 calories a day.

If you are a man in the same conditions, instead, you should take between 2000 and 2400 calories a day.
Our offices are open Monday to Friday from 8:00 to 13:00 and 14:00 to 18:00
Via Angelo Scotti, 2
27100 Pavia
Tel. +39 0382 5081
Fax. +39 0382 577265
E-mail: info@risoscotti.it
Via Angelo Scotti, 2
27100 Pavia
Tel. +39 0382 508341
Hours: 8.30-12.30 | 15.00-19.00
E-mail: negozio@risoscotti.it
Via Angelo Scotti, 2A
27100 Pavia
Tel. +39 0382 508216
Fax. +39 0382 571319