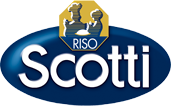 Salad Gran Nero
Whole Rice

Cook with imagination and add a touch of color to your dish with the combination of these two rices to create unconventional rice salads in just 10 minutes!

Black whole rice has a long and tapered grain with a pleasantly aromatic flavor; parboiled rice is a rice that remains al dente and with a characteristic amber color. Together they satisfy the taste and wink at your well-being.


Brown rice 50%, parboiled rice 50%


From the packaging date: 26 months


Remember, if you are a healthy and dynamic woman you should take on average between 1700 and 2000 calories a day.
If you are a man in the same conditions instead, you should take between 2000 and 2400 calories a day.

Such requirements obviously vary depending on age, life style and your general state of health.
Nutritionists advise to take small amounts of carbohydrates constantly throughout the day to always have "fuel" for our body.
Our offices are open Monday to Friday from 8:00 to 13:00 and 14:00 to 18:00
Via Angelo Scotti, 2
27100 Pavia
Tel. +39 0382 5081
Fax. +39 0382 577265
E-mail: info@risoscotti.it
Via Angelo Scotti, 2
27100 Pavia
Tel. +39 0382 508341
Hours: 8.30-12.30 | 15.00-19.00
E-mail: negozio@risoscotti.it
Via Angelo Scotti, 2A
27100 Pavia
Tel. +39 0382 508216
Fax. +39 0382 571319