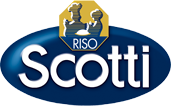 To be used as delicious tartine also with products of strong flavors, or to pair with cold cuts for a light snack.

Controlling salt intake can become a healthy habit of wellness.


Rice (60%), brown rice (40%).

It may contain traces of soy and sesame.

18 months from the packaging date.


-
Nutritionists recommend taking at least 25g of fibre a day in order to facilitate the elimination of dross. On the contrary today we take only about 10g because we eat more refined foods and on our tables there are less fruits and vegetables than on our parents' ones.

Remember that a diet with a low salt content reduces the risk of hypertension.

Remember, if you are a healthy and dynamic woman you should take on average between 1700 and 2000 calories a day.
If you are a man in the same conditions instead, you should take between 2000 and 2400 calories a day.

Such requirements obviously vary depending on age, life style and your general state of health.
Our offices are open Monday to Friday from 8:00 to 13:00 and 14:00 to 18:00
Via Angelo Scotti, 2
27100 Pavia
Tel. +39 0382 5081
Fax. +39 0382 577265
E-mail: info@risoscotti.it
Via Angelo Scotti, 2
27100 Pavia
Tel. +39 0382 508341
Hours: 8.30-12.30 | 15.00-19.00
E-mail: negozio@risoscotti.it
Via Angelo Scotti, 2A
27100 Pavia
Tel. +39 0382 508216
Fax. +39 0382 571319