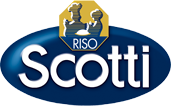 Fantasia di Farro
With Ancient Grains

To savor the best Fantasia di Farro enhance the taste with a delicate sauce made with seasonal vegetables. A mix for the table throughout the year; in the form of soup during the cold weather or tasty salad in summer.
Well-being and taste ready in 10 minutes!

Spelt is a cereal that, thanks to the presence of a good concentration of insoluble fiber tends to satiate, has a higher protein content than other types of wheat, and is a more digestible food compared to the durum wheat and soft wheat. It is a cereal rich in vitamins and minerals, but low in fat. In combination with durum wheat "Senator Cappelli" and brown rice, bring to the table a plate of taste and health.


Rice, super thaibonet integral parnoiled (60%), pre-cooked barley (25%), pre-cooked wheat "Senator Cappelli" (15%).

It contains gluten. It may contain traces of soy and sesame.



With a plate of Fantasia di Farro with ancient grains, you introduce in your body 27% carbohydrate and 21% of fibers that serves in the day.
Nutritionists advise us to take at least 25 grams of fiber a day to facilitate the elimination of waste. It is estimated that today only 10 g consume because we eat more processed foods and less fruit / vegetables on our tables than our parents.

Remember, if you are a healthy and dynamic woman, you should take on average between 1700 and 2000 calories a day.
If you are a man in the same conditions, you should take between 2000 and 2400 calories a day.
Our offices are open Monday to Friday from 8:00 to 13:00 and 14:00 to 18:00
Via Angelo Scotti, 2
27100 Pavia
Tel. +39 0382 5081
Fax. +39 0382 577265
E-mail: info@risoscotti.it
Via Angelo Scotti, 2
27100 Pavia
Tel. +39 0382 508341
Hours: 8.30-12.30 | 15.00-19.00
E-mail: negozio@risoscotti.it
Via Angelo Scotti, 2A
27100 Pavia
Tel. +39 0382 508216
Fax. +39 0382 571319