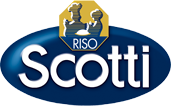 Chiccolat -
Rice based cream

You can use 50 ml of rice based cream to season 80/100 g of pasta or to enrich your recipes without making them heavier.

Our rice based cream doesn't contain the proteins of cow milk, so it's suitable also in case of intolerance to by-products of milk.


Ice based drink* 66% (water, rice* 17%, rice oil), water, sunflower oil*, stabilizers: carrageenan, xanthan gum; emulsifier: sunflower lecithin; salt, natural flavours, anti-oxidant: mixed tocopherols (it contains soya) *From biological agriculture. Gluten-free.




The cream is prepared with Chiccolat, our rice based drink, and contains all the lightness and wellbeing of rice.
Nutritionists recommend taking maximum 70 g of fats a day because the excessive use causes obesity, heart diseases and several other unpleasant health problems
Our offices are open Monday to Friday from 8:00 to 13:00 and 14:00 to 18:00
Via Angelo Scotti, 2
27100 Pavia
Tel. +39 0382 5081
Fax. +39 0382 577265
E-mail: info@risoscotti.it
Via Angelo Scotti, 2
27100 Pavia
Tel. +39 0382 508341
Hours: 8.30-12.30 | 15.00-19.00
E-mail: negozio@risoscotti.it
Via Angelo Scotti, 2A
27100 Pavia
Tel. +39 0382 508216
Fax. +39 0382 571319